About two years ago, I saw a newspaper article about a citizenship ceremony held in Accra. In the photo illustrating the article was a small group of well-dressed, brand new Ghanaians smiling widely. One of them was a fair-skinned woman. I think I was at that moment, a lightbulb lit up in my mind and I thought to myself, "But of course! I will also be a Ghanaian!"
Last year I discussed this idea with the members of the International Spouses of Ghanaians (ISAG), who were most helpful when I was applying for permanent residence eight years ago. Now a handful of us agreed, it would be good to become Ghanaians! One of us went to enquire at the Ministries about the process, another talked to someone who just passed through the process. We were happy to find out that it would not take more than six months and cost GHS 3000, a quite reasonable sum for adding the rights and responsibilities of a whole new country to your person.
Why going for a Ghanaian citizenship?
I can think of many reasons ( I will list them all below), but it is based on the general feeling that one should hold a citizenship for the country where one resides permanently, and return readers will know I have lived in Ghana for 10 years now.
Here are all my reasons for going for a Ghanaian citizenship:
I live in Ghana and would like to hold all the rights (like voting) and responsibilities (like being involved in local government) as others who live here.
My current status could be revoked. I hold an Indefinite Residence permit, but have to ask permission to leave Ghana for more than one year. The Ghanaian government could say they don't like my reason for staying away, and revoke my indefinite residence permit. If I get divorced, I am also not sure what happens to the indefinite residence permit as it is based on being a spouse of a Ghanaian.
My children and spouse are Ghanaians. At this stage, my husband has no reason to apply for Swedish nationality, but it would still be practical and nice to all have the same citizenship.
I would also like to inspire and perhaps even surprise jaded Ghanaians who think there is nothing to gain from being a Ghanaian citizen. I would be proud to be part of the nation that has such rich cultures, languages, and practises, that first gained independence from the colonial power, that has gold and diamonds, vast forests and beautiful shores…
 Easier African travel is a plus!
Starting the process
Together with my fellow applicant Nancy we signed in at the Ministry of Interior at 10.20am. We were directed to Room 17 to share details. In the small office, three officers sat by their desks. We were asked how long we had resided in Ghana and the room fell quiet when Nancy calmly said "41 years". My 10 years seemed feeble in this context. We were asked for our nationality and brought our passports to show our full legal names. There was a Notice on the wall that a third party cannot come for the registration or naturalization form.
We were told to go to Room 24 to make payments. After we had paid the GHS 3000 and been issued with a receipt, we went back to the first room, obtained a checklist (see below) of all the documents we need to attach to our application, a form for sponsors to fill, and the application form. We asked some questions to clarify. We found for instance that although not specified in the checklist, we also need a police report, two sponsors to fill forms AND write letters on our behalf. Sponsors should ideally be a senior government officer and a lawyer. After only 25 minutes in the ministry we had come to the end of the first step of the process, we asked one of the officers to take a photo of us with our brown envelopes containing the application forms to let us remember this big day and at 10.46 am we signed out!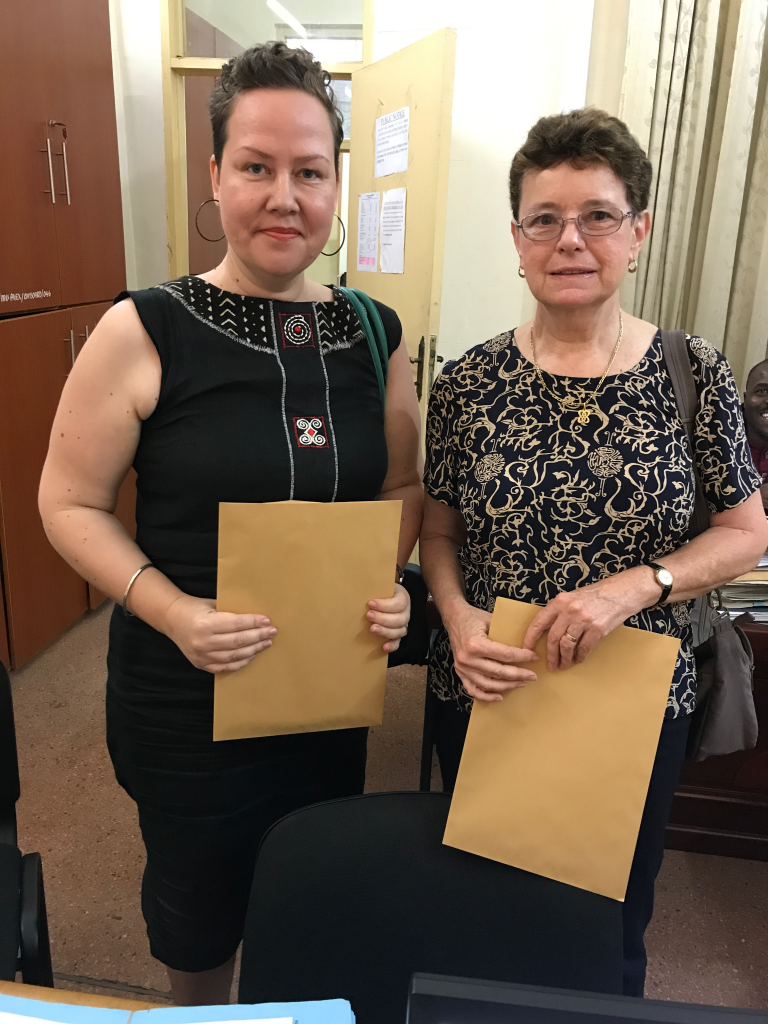 First Step of the Process of becoming a Ghanaian citizen
The first step definitely was most fact-finding, psychological and personal, and just to a small extent administrative. The process seems to be quite straightforward, the hardest part at the ministry was finding parking! Now I have some work to do to complete my application. I will keep you posted on the next steps.
If you have any questions, please post them below and I will do what I can to help.
————————————
Checklist: Requirements (taken from the Ministry of Interior's website).
NB: Applicant should reside in the country for at least 5years
Purchase (Application form 3)
Copy of Passport (Bio Data Page)
Current OR Indefinite Residence Permit page
Copy of (Spouse) Ghanaian Passport (Bio-data page)
Consent letter from Spouse
Copy of marriage Certificate
Naturalization Certificate (if spouse is a naturalized Ghanaian)
A citizen of age and capacity of any approved country may upon an application, and with the approval of the President be registered as a citizen of Ghana if he satisfies the Minister that;
(1)He is of good character, (2) he is ordinarily residence in Ghana, (3) he has been resident throughout the period of five years or such shorter period as the Minister may in the special circumstances of any particular case accept, immediately before the application, (4) he can speak and understand an indigenous language of Ghana.
Application letter addressed to the Minister, Ministry of the Interior (P.O. BOX M42, Accra)
Four (4) Passports Size Pictures