My name is Kajsa Hallberg Adu. I was born in the early 1980s in northern Sweden. I grew up with my three siblings in a culturally rich (and sometimes a bit crazy) family on an island in southern Sweden, Gotland.
After leaving high school and my family, I volunteered at the World Expo 2ooo in Hannover, Germany and my interest in international life blossomed. I studied in Georgia, U.S.A. before coming back to Sweden for my Bachelor's in Political Science at Uppsala University. During studying, I met an interesting young man from Ghana. For the subsequent Master's degree, I had the opportunity of interning for the Swedish foreign ministry in Paris.
In 2007, I moved to Ghana. I live in the harbor city, Tema, about 40 minutes (if no traffic) from Ghana's capital Accra. I work as a lecturer at Ashesi University in Accra, but also as a Freelance Writer and Communications Consultant.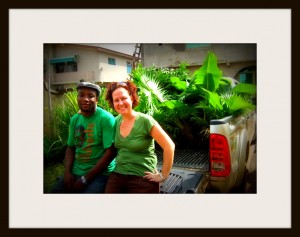 Although I am now out of school, I call myself an eternal student. Except for politics, I'm interested in Inter-cultural Communications, Social Media, Higher Education, African Studies, Languages, and Art. I am also a mother of two daughters and the spouse of a Ghanaian man (in green next to me in the photo). I am mindful of that my children and husband have not chosen to be blogged about, so usually I focus my posts where they are a part on parenting or my experience of them. My husband, of course, gets to review if he is mentioned in any way. Not writing at all about my children or spouse would be strange as they are so important to me.  A wonderful way of studying life is being a blogger.
I started my first blog in 2006 when I was moving to Paris. It was a natural step after having kept a diary since kindergarten. In 2008, I co-founded the network BloggingGhana. In 2011, we formally registered as an organization and started election project GhanaDecides and yearly event BlogCamp. Now blogging and other social media are a big part of my life, especially as a means of keeping in touch with friends all over the globe, not to mention making new ones. You can follow me on Twitter, Pinterest, and Instagram @kajsaha.
I dream of making a living off of writing. In a way it is already true, I write for some publications, I write academic stuff and I completed my Ph.D. in African Studies at the University of Ghana in 2015.  However, I love the social aspect of teaching!
This blog is personal, political and sometimes positive.
Thanks for reading it!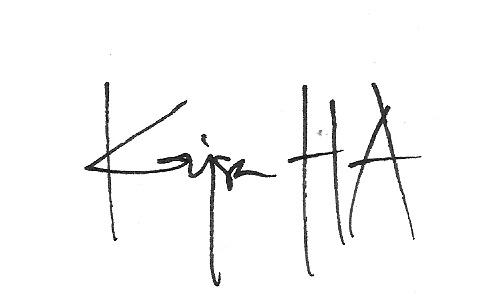 Last edited Aug 31, 2017.