Right now, Ghana's president John Dramani Mahama is in Sthockholm cohosting the GAVI alliance meeting for immunization and next week the Swedish Minister for Trade, Annie Lööf, will be coming to Ghana.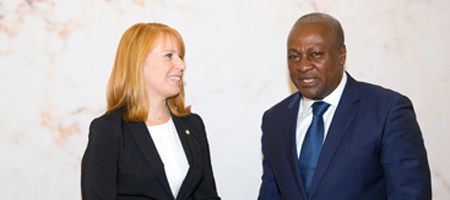 In the photo, minister Lööf and president Mahama. Photo borrowed from the Swedish government website/ Martina Huber.
The president is in Stockholm to campaign for vaccines for all children. Ghana is an "Immunization Champion" and have a strong track-record on immunizations. From the website of GAVI:
"As an innovative global health partner, GAVI is committed to promoting the health of children through immunisation and this must be commended", President Mahama stated in a meeting with Ms. Evans.

He further observed that, "GAVI deserves the support of all leaders desirous of building healthier communities. I pledge my unflinching support as an Immunisation Champion to enable GAVI achieve its noble objectives."
The Swedish minister comes to Ghana with a trade delegation including Ericsson, ABB, Atlas Copco, Sandvik och Eltel, continuing on the visit three years ago with the then Minister of Trade Ewa Bjorling. The minister is also following up on her favorite issues: innovation and womens' leadership. She will visit a local innovation hub, Meltwater, and talk to Ghana's minister of foreign affairs, Hanna Tetteh about women in politics, according to her schedule (only in Swedish).
Granted, these two news items are suitable for a Swedish/Ghanaian blog. But this time, there are more connections! Last week, I saw Mahama at the ICAS13 conference , my daughter got immunized and next week I have been invited to meet with Annie Lööf ! Report to follow.
Sharing is caring!