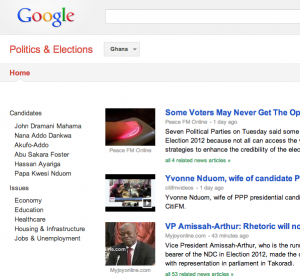 Are you a follower of the Ghanaian elections? If you are, I have good news for you! On Nov 5th, the Google Election Landing page for Ghana went live.
It is a great resource that collates news, links, videos and much more about the Ghanaian election. Google has generously served as a mediator for election activities online and GhanaDecides/BloggingGhana has taken part in a workshop and a networking meeting to hear what other organizations are doing and make sure we link to eachother, do not duplicate and generally support the wonderful efforts like GhVotes, Jangbeeshie App and GhanaDecides. I just wish Google would have also linked more heavily to those and other external websites, not just to Google+ sites as I think that makes the landing page slightly less useful than it could be. I believe Google is working on this.
At the bottom left corner is a link for "Election Toolkit" that are highy useful to all political actors.
With one month to go, it is time to make up your mind on how to vote!
Sharing is caring!