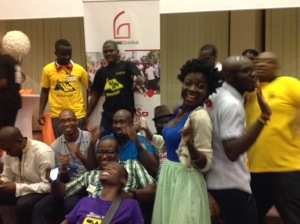 Yesterday was BlogCamp. It can be summarized with The words people, selfies and an award.

People
BlogCamps are free events to the participant and it had been fully booked for more than two weeks to the day! The venue, Kofi Annan ICT Centre was filled to the brim of people who love blogging!
Selfies
The trend of taking selfies with devices of yourself with others had most definitely come to Ghana. Selfies were happening all over, maybe propelled that many met internet friends for the first time.
An Award
Is as surprised to find I won the Best Female Blog award among good contenders, but very happy as the congratulatory messages kept rolling in on Twitter. Thanks dear reader if you voted for me!
A great day! Hope to see many of you at BlogCamp15!

For more photos, go to Facebook.com/BloggingGhana
Sharing is caring!