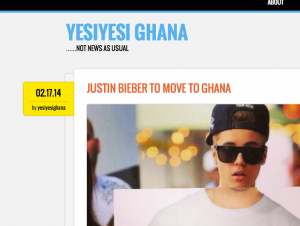 Probably I should not put this in a blogpost, but rather write an abstract together for an academic paper with my inspiring colleague who writes about Ghanaian politics in just this way.
Anyways, I am thrilled that YesiYesi now provides almost daily, online satire with "the onion"-like twists of Ghanaian daily news. It is the first time someone (who?) has put together online versions of the very typical Ghanaian, political humour online in such a consistent manner. In a blog! (Please join BloggingGhana!) In the last few days we have read about …Justin Bieber moving to Ghana, Ghanaian women refusing Valentine's gifts if the Cedi can stabilise, Ghanaians soon being able to go to UK without a Visa, and my favorite, KNUST charging  toll for walking on the pavement, the rate based on your foot wear…chale wote was cheapest…haha, I have to laugh just by thinking about it!
Finally, Ghana has its own news satire, and, YesiYesi, it is on point!
Sharing is caring!