Some time ago, I shared five of my favorite Ghanaian brands, here is the second part! In no particular order, here are companies that deliver in Ghana:
5. Star Beer (no web presence, it seems!)
I am a Star. Woman.
Favorite product: Big bottle (625 ml)
Favorite product: The classic "Make Fufu, not war!" or the print with mother and child, "Sweet mother"!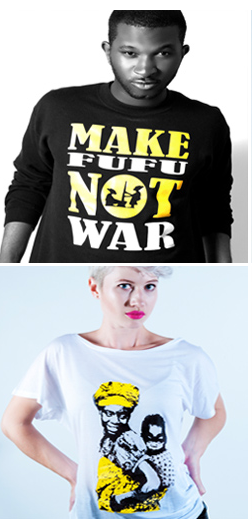 7. Goody Cashew Nuts (No web presence, either!)
Perfectly salted. Healthy snack that can be bought in traffic (stay clear of the others!)
Favorite product: Small bag – lasts surprisingly long
8. Yenok
The Koney family's well made wood craft from Takoradi.
Favorite product: A well crafted chair
9. Eden Tree
Fresh greens is just a basic necessity, this company does it well!
Favorite product: Herbs like Mint and Basil and Fresh Green Beans
10. Upcountry Coffee Company (like them on Facebook!)
One of the items I have been carrying to Ghana from abrokyire since I moved here is coffee. I need a big cup of it every morning, so as someone who both loves coffee AND local produce I was besides myself with happiness when I found Ghanaian coffee! And it is very good!
Favorite product: Ground coffee (250g ) Lasts me two weeks. 
Now it is your turn, what local products do you love?
Sharing is caring!