First a little background from the last couple of days: Ghanaians went to the polls on December 7th and surprisingly also on the 8th, due to malfunctions of biometric (finger print) verification machines in around 18% of polling stations. Results started to trickle in and the media and online resources that I described in an earlier post publicised them as they came in. Late yesterday evening, I went to bed. It was then an excruciatingly even race and I thought my prediction of a second round would come true. However when I woke up this morning, Joy News /Multmedia had projected that incumbent John Dramani Mahama of the NDC would win. Numbers started to tilt over 50 percent for NDC and it still was close, but with only a few constituencies left to count seemed possible to call. Then in the afternoon, the main opposition party called to a press conference and reported irregularities on the collation centre level where they claimed votes had been added in their thousands.
Fast forward to the point when we were all waiting for the electoral commission to come out and say something. As we were waiting for EC:s press conference, TV channels were showing the empty halls of the EC premises and the EC was said to be in an emergency meeting with the National Peace Council (NEC) and the two main opponent parties, the NPP and the NDC. Just before they all came out  a few minutes to 9 PM, this was posted on the EC Facebook wall: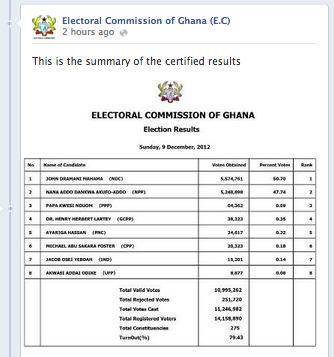 Twitter and Facebook went wild, people were sharing this document like crazy – it appeared to be a summary of election results. Was it genuine? Why was it released on Facebook? As GhanaDecides points out, we cannot know, but here are some guesses that were mentioned on social media:
1. The Electoral Commission's own Website came down earlier in the day (too many visitors?) and as that channel was not working they chose the next available thing, their Facebook page.
2. The meeting with the parties and the NEC was dragging out and the results were provided to show the meeting delegates that postponing declaration of results was not an option.
3. As the media was waiting in a adjacent room since a couple of hours, the results were released on Facebook to calm nerves of the press corps and the country.
Shortly after the Facebook post, the press conference finally started and the Electoral Commission confirmed the results and declared a president elect – John Dramani Mahama. However for half an hour or so, the results in Ghana's 2012 presidential election was only available on Facebook. As the above are only guesses, hopefully we will get clarity on the process behind this historic Facebook post – the first ever Facebook post for presidential election results? – in the days to come.
In social media the discussion is ongoing if it was "good" or "bad" for Ghana that Facebook was used for this important message. As someone who works with promoting the use of social media for societal good (I am the chair of BloggingGhana, the mother organization of GhanaDecides), I think we could not have wished for a better showcase of that Ghana and Ghanaian institutions are indeed using social media and finding new and innovative uses for it for societal good. After all, Facebook is a direct and interactive channel to citizens. 
What do you think?
Currently the results have been shared 1390 times on Facebook and ECs page has over 18 000 likes.
UPDATE: Read DK's worthwhile article on the same issue here. He concludes:
"Part of social media's appeal to the young African is its ability to enpower individuals and communities to reflect and/or portray our lives and values, both to our peers and to international onlookers. Over the past few months we turned our Facebook feeds into mock parliamentary chambers, debating the issues of the day. We turned our timelines into soapboxes, expounding our 140-character political theories. We hung out in Google+ chatrooms, like old chums in a chop bar talking politics.

Barring the odd incident, the path, though potholed, has been successfully navigated and Ghana has indeed decided. With a turnout rate just shy of 80% (up 10pp on 2008) the real winner has to be democracy. In the light of all this, perhaps it was only fitting that a nation with a dual appetite for social media and politics, has had its appetite for politics fed by a simple post on a feed."
Sharing is caring!